1. Introduction
Here is a sample Informatica Cloud Certification practice test to test your knowledge.
There are 26 questions in the sample test, one from each category as defined in the Informatica Certification exam curriculum. For complete categories list, click here.
The questions in the quiz are in line with actual certification examination difficulty and pattern. So go ahead and test if you are actual ready for the certification.
2. Sample Test
Informatica Cloud Certification Sample Test
26 Multiple Choice Questions
3. Resources to get you prepared for the Final Test
The actual certification exam consists of 70 questions and the passing score is 70% i.e. you need to get at least 49 out of 70 correct.
Out of total 70 questions, 57 questions are from Data Integration concepts and the remaining 13 are from Cloud Application Integration concepts.
Do not worry if you didn't get a good score in the quiz or not aware of any of the concepts which are in exam curriculum.
If you either got a good score or bad score, there are excellent resources available online to get you prepared for the final certification exam.
3.1 Informatica Cloud Free Training from Informatica University
Informatica provides a free tutorial on both Data Integration and Application Integration through Informatica University.
These are excellent resources to start your preparation and they are completely free and offered directly from Informatica.
You can also get a free trail of 30 days of Informatica Cloud environment incase if you are interested to get hands-on preparation.
Please check the article which gives complete step-by-step registration guide to these courses from Informatica University and also explains how to register and set up Informatica Cloud free trail on your personal computer.
We highly recommend you take these courses from Informatica University as you can expect most of the questions from the concepts discussed in these tutorials.
3.2 More Practice Tests to get you prepared for your exam
If you are looking for more practice tests to understand the pattern of the questions, their difficulty and your readiness for the exam, here is a recommended course from Udemy which provides 3 Full practice tests.
This is not a free course. But Udemy always provide offers throughout the year and you can get this course as low as 400 – 700 INR.
Given that Informatica currently charges $340 USD for the certification exam, the practice tests are worth the little money to make you feel more confident before the exam.

Here is an overview video of the course from Udemy.
Few key points about the course offerings
100% INLINE WITH EXAM BLUEPRINT: Practice Tests reflect the latest Informatica Cloud Certification exam question/answer format. All the topics from both Data Integration and Application Integration are covered as per the exam weightage.
SIMULATE THE ACTUAL CERTIFICATION EXAM: All 3 Practice Tests are timed (90 min to answer 70 questions) and scored (passing score is 70%) mimicking the real exam environment so you get familiar with the Informatica Cloud exam format.
EXPLANATION FOR ALL ANSWERS: After completing the practice test, you get to review and check your answers. Every question includes an explanation that explains why each answer is correct or incorrect, supporting your understanding of Informatica Cloud Services which is key to passing the exam.
TEST REPORT: Upon completion of the Practice Test you are presented with a report. This allows you to track your progress and highlights the Score "topic wise" for both Data Integration and Application Integration topics which helps you understand where you need to focus most in your preparation.
Another highly enrolled Informatica Cloud Certification Practice test
Informatica Cloud Specialist Certification
3.3 Registration guide to Certification exam
The Informatica Certification exam needs to be registered from Informatica University itself.
Here is a complete step-by-step guide which helps in your smooth registration process.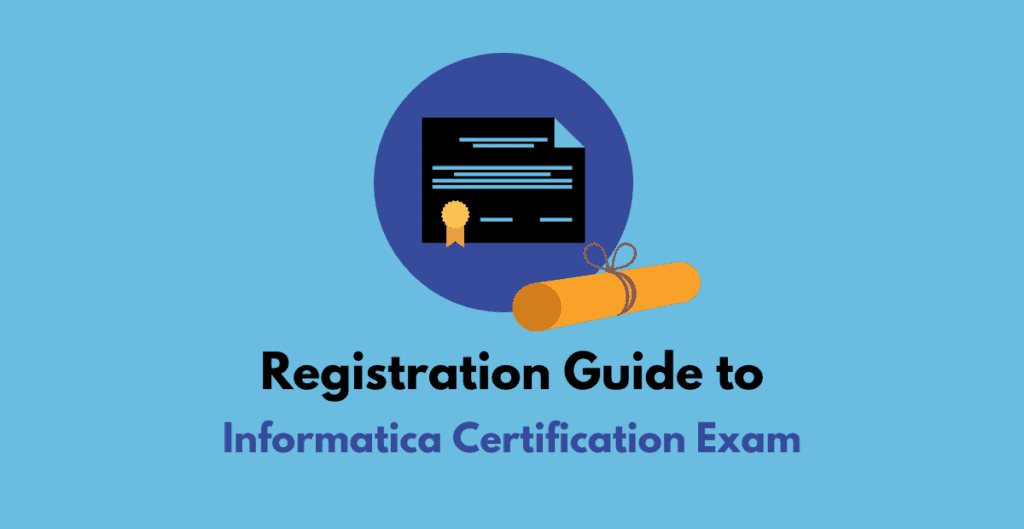 If you are outside US or Canada, the payment method to complete registration process might not be straight forward as the Credit Card payment method is not enabled to complete the payment.
So make sure you check out the article before you proceed to register for the certification exam.
4. Some Key Points to know about Informatica Cloud Certification exam
The Informatica Cloud Professional Certification Exam is not a scheduled exam i.e. you need not book any time slot to take the exam like other professional certification exams like AWS, Snowflake etc.
You will have 90 days to complete the test once you register for the examination and you can take the test at any point of time in these 90 days.
There is also a Second attempt provided if you are not able to clear the exam in the first attempt. You must wait two weeks after a failed test to take the test again. This needs to be completed in the given 90 days' timeframe. So, plan the test accordingly.
The exam is also not monitored by any third party vendor or Informatica itself. That does not mean we are encouraging any malpractices but it is a point to keep in mind before taking the exam.
The Informatica team is mostly confident that even if you can google the answers during the test, you might not find answers as the questions are designed in such a way. But don't worry, they are not that difficult either if you are prepared.
5. Why you should consider getting certified in Informatica Cloud?
Informatica is also aggressively promoting their Cloud Platform offerings as the industry is shifting slowly towards Cloud (Have you seen Informatica posting about Powercenter in their LinkedIn or Twitter handles recently?)
Getting Certified in Informatica Cloud gives you a COMPETITIVE ADVANTAGE and puts in a strong position in the competition.
If you are from Powercenter background, this is a good time to learn and get certified in the Cloud and it is really easy to crack exam for people coming from Powercenter background. IICS Data Integration is basically Powercenter on Cloud with some additional features and UI changes.
6. Conclusion
Here is everything that you need to know about Informatica Cloud Certification exam and the resources that will help you in the preparation and registration process.
So what's really stopping you from getting certified??
Let me know if I miss anything or you want to know about something specifically in the comments section.
Happy Learning!! Get Certified Now!!