There are multiple certifications offered by Informatica. The registration process for all exams is almost similar. Let us discuss in this article how to register for Informatica Cloud Professional Certification exam.
This is just an informative article. We are not responsible for any payment related issues. Make sure you read all the instructions provided by Informatica thoroughly and contact the Informatica support team in case of any queries, requests or issues.

DISCLAIMER – READ ME
1. Introduction
After your successful registration and receiving the confirmation from Informatica, you will have 90 days' time to complete your certification exam. No scheduling required. You can take exam at any point of time in that 90 days' time frame.
The exam comprises of 70 multiple choice questions to be completed in 90 minutes.
If you fail to achieve the pass percentage (which is 70%), you can take a second attempt after 2 weeks.
You should complete both your 1st and 2nd attempt within 90 days only. So plan accordingly.
2. Step-by-step Registration Guide
2.1. Create an Informatica Account with your email-id
Navigate to the Informatica site to create an account. The account creation process is pretty straight forward.
We have discussed in detail the account creation process in our previous article. Please go through that.
2.2. Login to Informatica University
After successful account creation, navigate to Informatica site and click Login.
Enter the email-id and password you have set during account creation process.
On the home page you will find links to various Informatica portals.
Click on Informatica University.
2.3. Search for the certification exam and add to cart
In the Informatica University home page, search for the certification exam you like to take.

Click on the certification exam from the auto results.
You will be redirected to the selected exam page. Click on Add to Cart.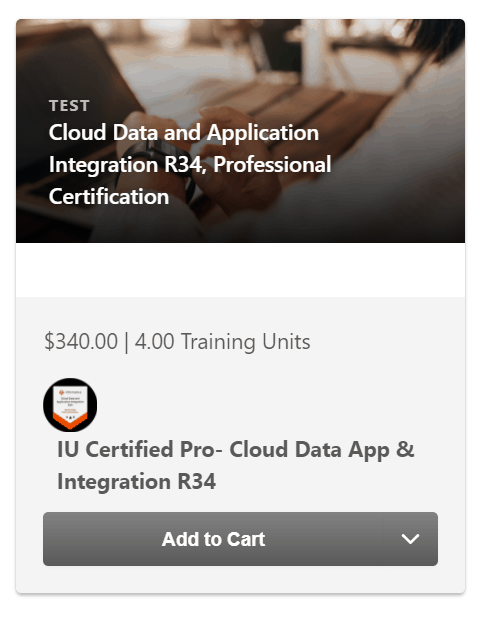 The Informatica Cloud certification cost is 340 USD.
You will be asked if you are registering for yourself or other. Leave the default selection Myself as it is and click on Submit.
After submission you will be redirected to Shopping Cart. Verify the details once again and click on Proceed To Checkout to make payment.
2.4. Proceed to the payment page
2.4.1 Steps to follow if Credit card payment method is not enabled.
On the payment page you will see three payment methods. We need to select the Credit Card payment method.
If you are outside USA and Canada, there are chances that you might not see the credit card option enabled when you click on select as shown below.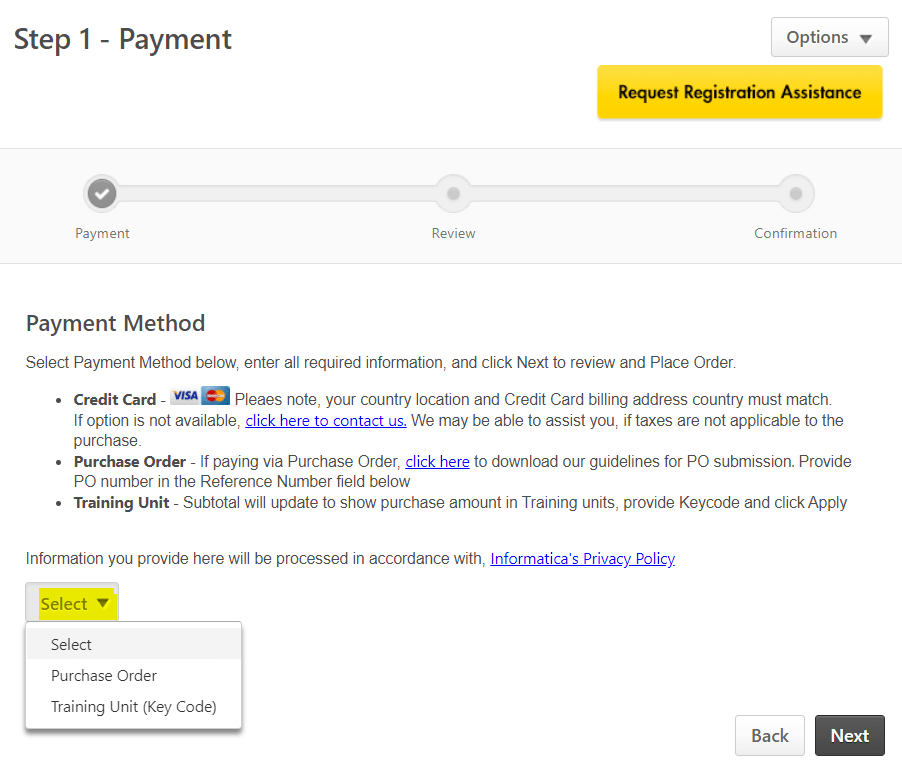 If you see the credit card payment method already enabled, proceed to next step 2.4.2.
On the Payment page right click on Request Registration Assistance and select copy email address.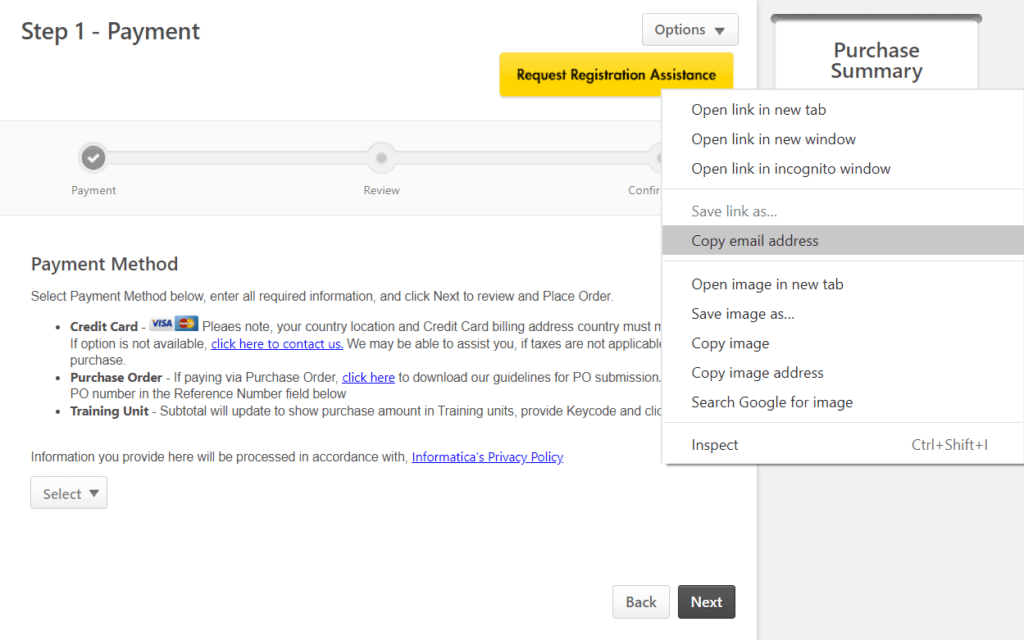 Subject: Credit Card Payment Method Not enabled
Body:
Hi Informatica Team,

I am from <your country> and I do not see Credit card payment method enabled to pay the amount for certification exam - Cloud Data and Application Integration R34, Professional Certification.
Please enable the credit card payment method.

Please let me know if any further information is required from my side to get this enabled.

Thanks,
Your name.

NOTE: This is just a sample format which you can use. Feel free to compose your own email if you want to make any changes.
Make sure you send email from the same email-id you are using to register for the certification exam.
Now you need to wait for the reply from the Informatica team. Usually it might take 2-4 working days for them to enable the credit card payment method.
Once you receive email confirmation from Informatica team as below, login to Informatica and go to shopping cart.

You should see the Credit Card payment method enabled.
2.4.2 Steps to follow for Credit card payment
Select Credit Card payment method and click Next.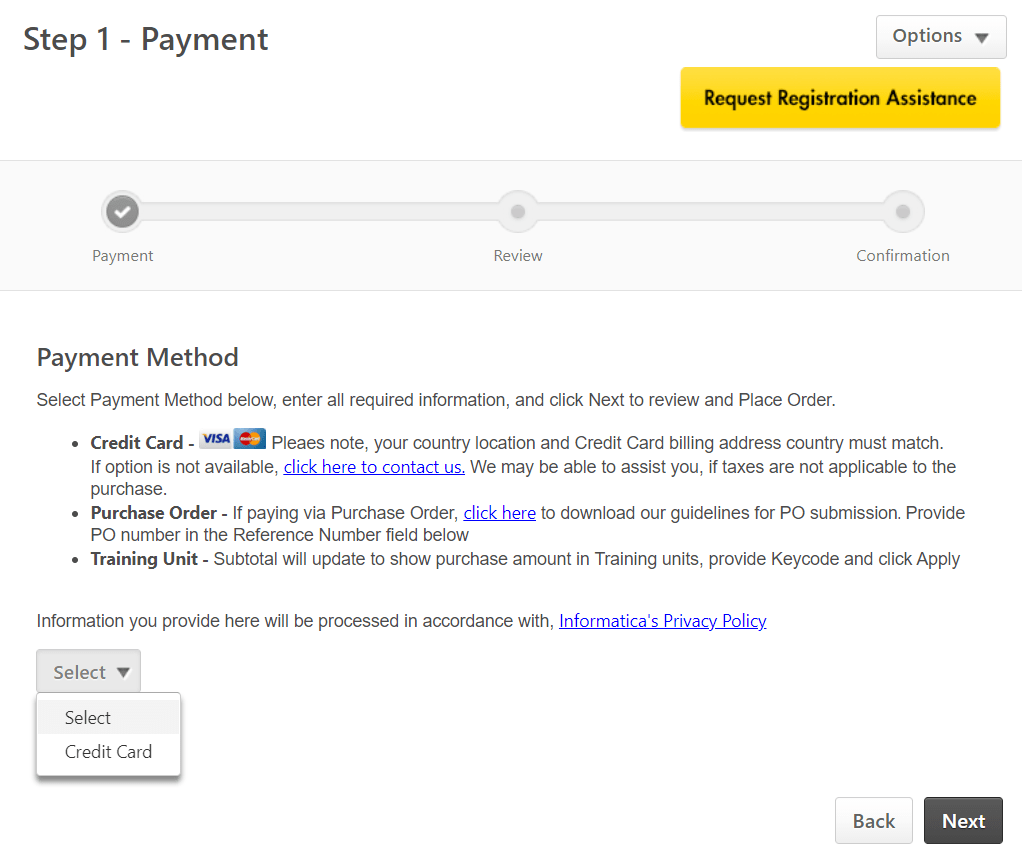 Enter your Credit card information.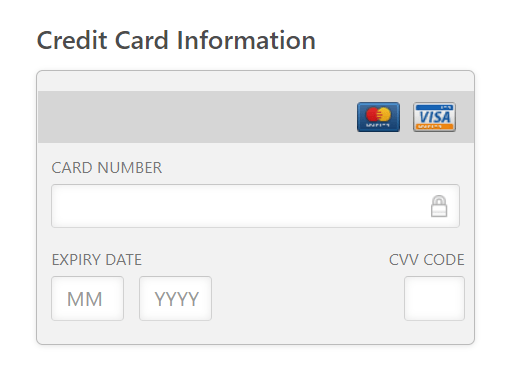 Enter the address details and click next. Do not worry about Billing Address and Shipping Address. Just make sure you enter the address registered with your Credit card.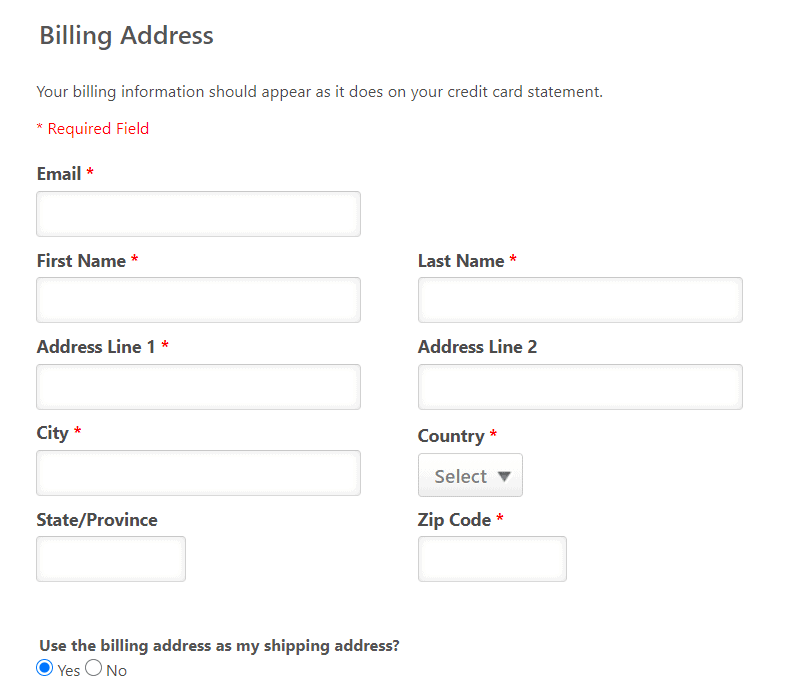 You will enter into step-2 of payment procedure. Check details and click Place Order.
In the final step you will receive a payment confirmation. Also look out for an email confirmation from Informatica.
3. Launching the exam
After successful registration, whenever you decide to take the exam, login to Informatica and navigate to Informatica University.
Search for the exam as we did in step 2.3 and select the exam from auto results.
You will be redirected to exam page where instead of Add to Cart you will find Launch button. Click on Launch.
Read the instructions again thoroughly and start the exam.
All the best!!